Things to do in Linköping with children
Linköping offers a wide range of activities for the young and young at heart. Discover historic Linköping with the kids. Or maybe you would prefer a little fun in the pool? Here are a few great tips on how you and the kids can find the perfect activity for a fun-filled day in Linköping!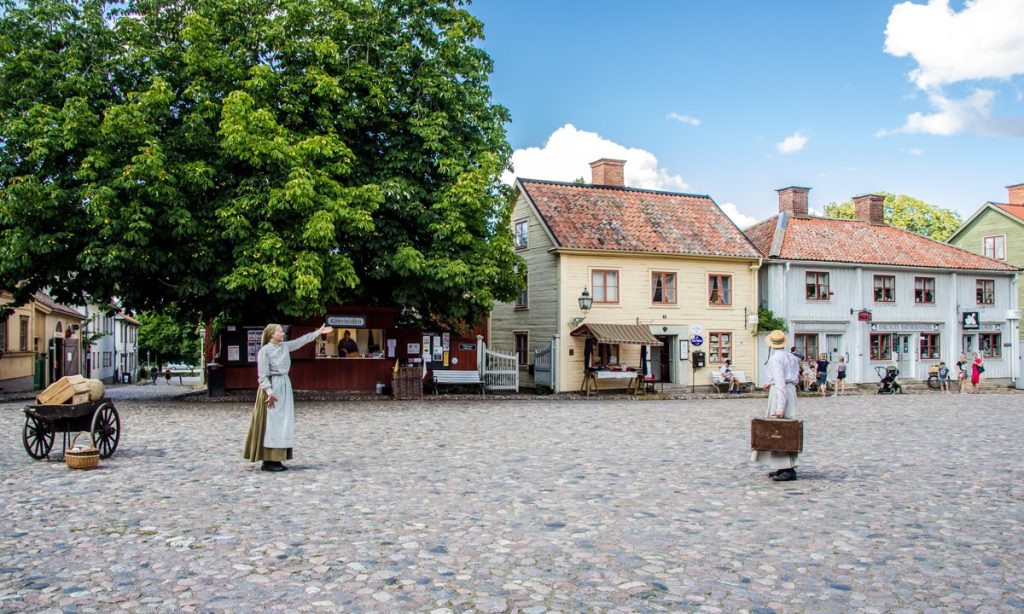 Gamla Linköping – where history comes to life
Take the kids on a journey through time in Gamla Linköping – the place where history comes alive! Gamla Linköping is an open-air museum that shows what life was like in the city around the turn of the century in 1900. You and your family can look back in time at the city, forest and countryside of yesteryear, with wooden houses and cosy cobblestone alleys, animals and nature.
The museum offers activities all year round, but during the "Tidernas Sommar" (the week after Midsummer until mid-August), there is even more to do, with a wide range of fun family activities every day. For example, you can visit the play and learning environments Barnens Bod, Bryggaregården and Lekladugården, watch a play, experience what it was like to go to school over one hundred years ago or help detectives Lasse and Maja solve mysteries in LasseMaja's Deckarhus (detective house). And if you do visit during the peak summer weeks, you can also take a ride on the popular "tuff-tuff" train that chugs around the museum! There are also some wonderful small shops on site, and if you feel a bit thirsty or hungry, there is no shortage of options here – you will find everything from shops filled with goodies to Swedish fika, waffles, ice cream, sandwiches and "real food".
During the Christmas season, "Tidernas Jul", families make a pilgrimage to Gamla Linköping to get into the Christmas spirit. The popular Christmas market is one of the main attractions, where visitors can shop for unique Christmas gifts while taking in the sounds of old-fashioned Christmas carols played by festive Christmas choirs. In this magical environment with its festive atmosphere, it is impossible not to be moved by the Christmas spirit.
Gamla Linköping is easily a full-day visit any time of year. There is so much to discover all year round!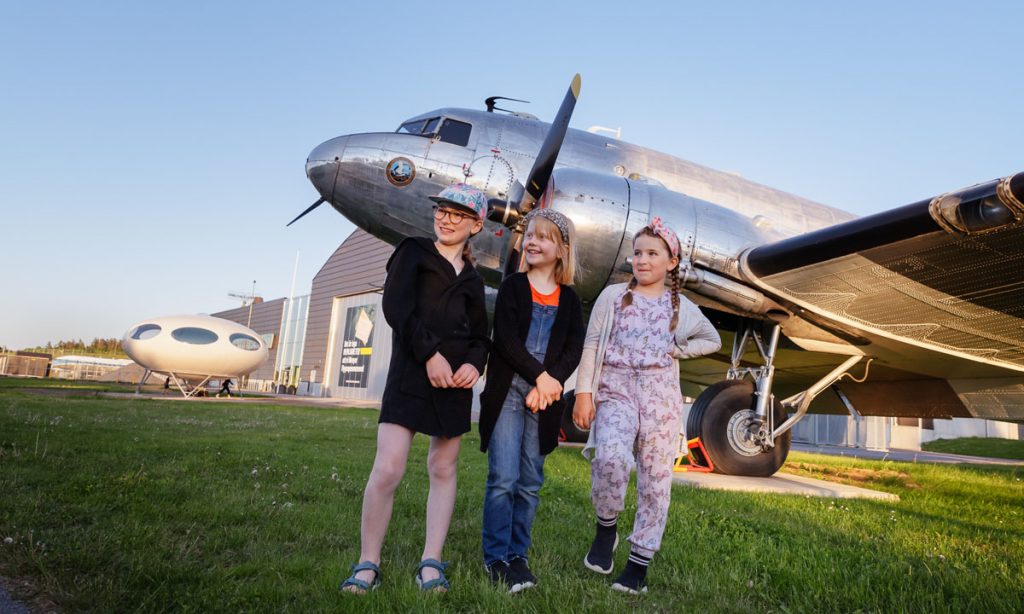 The Swedish Air Force Museum – A mecca for aviation and technology enthusiasts
No trip to Linköping would be complete without a visit to the Swedish Air Force Museum. It is a rewarding and enjoyable experience for everyone, regardless of your knowledge of aviation, age and interest. Not only does the museum feature an impressive collection of aircraft – it also holds events throughout the year to keep the little ones happy. The museum's Family Friday is the perfect day to discover everything this fantastic destination has to offer. Or why not go on a guided tour (also suitable for children)? The calendar at the Swedish Air Force Museum varies from week to week and according to the season – but if you take a peek at the museum's website, you can get a detailed overview of the museum's coming events!
A visit to the Swedish Air Force Museum is an unforgettable journey through 20th century aviation history, all the way up to the aircraft of today, including the JAS 39 Gripen. In addition to the many unique aircraft in the museum's collection – from the early days of aviation up until modern times – visitors can experience what it feels like to be a fighter jet pilot in the Gripen simulator. During the flight in the simulator, you can try taking off, flying and landing the aircraft. Read more and book a visit on the Swedish Air Force Museum's website. Visitors can also discover the Flight Lab, the museum's science centre, where you can learn more about flight in exciting experimental stations. Top off the visit with a lunch or coffee in the cosy restaurant Calle C. The restaurant offers a special children's menu with children's portions that hit the spot just when you need it most.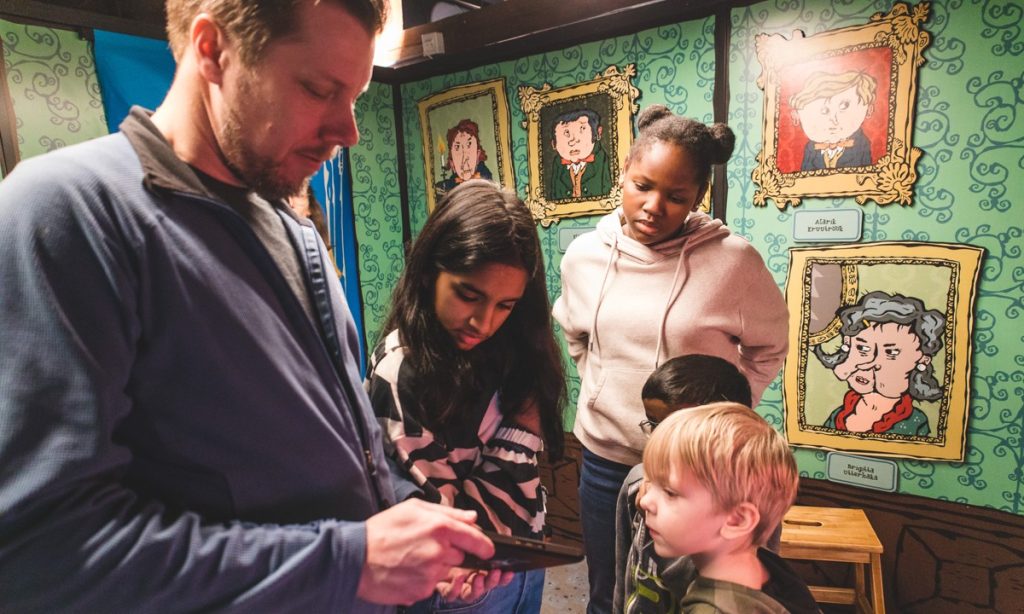 LasseMaja's Deckarhus (detective house)
A new attraction in Gamla Linköping is Linköping's (and the world's) first LasseMajas Deckarhus (detective house), which opened its doors in 2023. Based on Martin Widmark's iconic books about the dynamic duo who solve crimes together, the first detective house is now welcoming visitors.
At the detective house, you help solve mysteries in Valleby together with your group and LasseMaja's Detective Agency. Collect clues, find evidence and complete different tasks to catch the criminals in the mysteries of Valleby. A group consists of 3-5 people, and you can choose between three different mysteries. Tickets are purchased on the website for the detective house before your visit.
Helping the police commissioner solve mysteries and catch criminals can be exhausting work. Luckily, Café Panini and Bernard are right next door to the police station. Both big and small detectives can refuel. The café offers hot dogs, sandwiches, cookies and ice cream. What could be better after two hours of gruelling detective work? Stop by and grab a bite! You don't need to solve a mystery or buy an entrance ticket to visit the café or bookstore.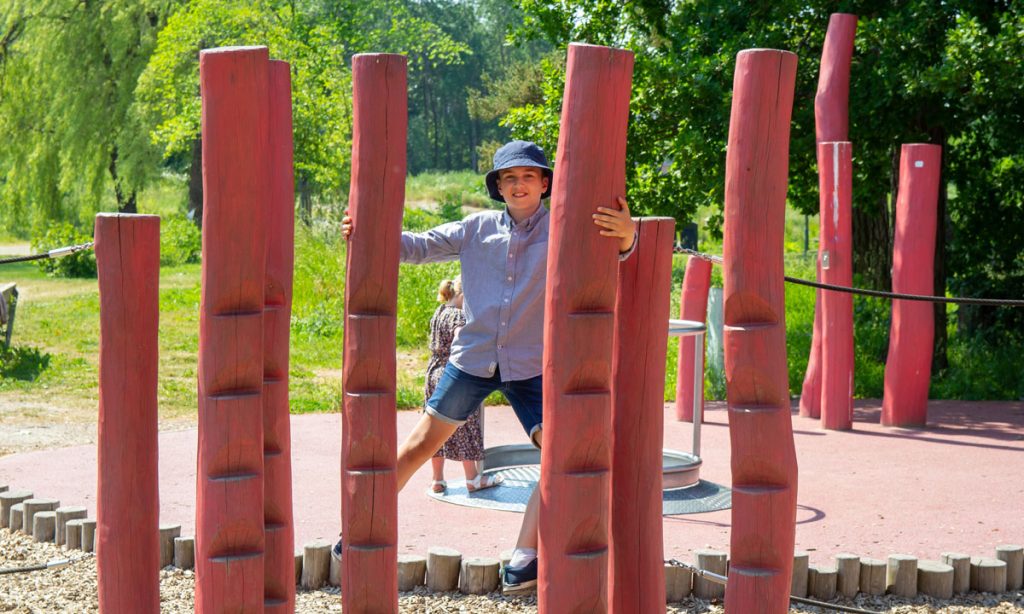 Valla Gård and Lill-Valla
If you explore Gamla Linköping a little further, you will also find Valla Farm and the Valla museums, the rural part of the open-air museum. This part of the museum is just a short walk from the city quarters, through the Vallaskogen nature reserve. Here guests can get up close with the museum's animals and take in the peaceful natural surroundings. In summer, you can challenge each other to a round of mini golf on Östergötland's largest mini golf course, which offers two different 18-hole courses. And don't forget to pack the picnic basket. There is plenty of space to spread out the blanket. When the snow starts to fall in Linköping, the Vallamassivet beckons adventurous visitors to its two sledding hills. Then there is only one thing left to say… ONE, TWO, THREE – GO!
Valla Gård is also home to Linköping's largest playground, Lill-Valla, which is a perfect destination for kids to let loose and have some fun.  The playground has three large play areas, including structures from ziplines to slides. This is a place where kids can be kids and find an outlet for all of that pent up energy! The playground also has a small animal enclosure with rabbits and chickens. The pastures around the playground and Vallaskogen are also home to horses, goats and sheep. The forest offers a wide variety of walking paths, including  family-friendly paths, where guests can learn more about animals and nature.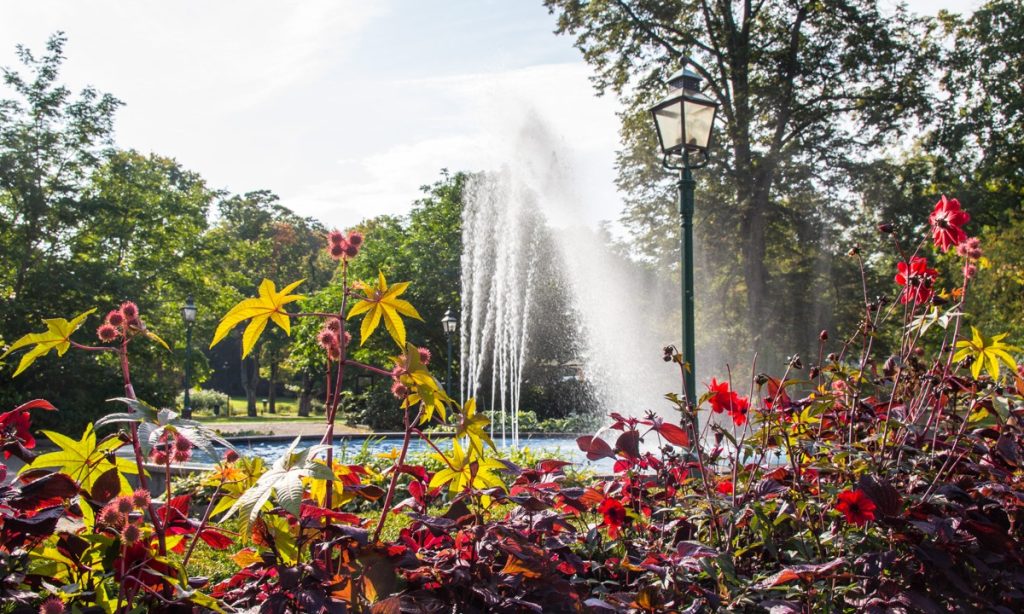 Trädgårdsföreningen
You don't have to go far to enjoy the bounties of the season – you can do it right here in the heart of Linköping! Trädgårdsföreningen offers a lovely oasis in the centre of the city. Here you will find vast, open spaces that invite visitors to run and play. For the little ones, there is a playground with swings, climbing structures and more. In the winter months, there is a small skating rink the park, and in summer, beach volleyball is the game of choice for young and old alike. There are three fully equipped courts that can be rented by the hour for a small fee.
If your stomach starts to rumble, you can always take a break and grab a bite to eat at Tropikhuset. Or why not head up to the lookout tower and the Belvedere café to quench your thirst while taking in a magnificent view of the city? On clear days, you can see all the way to Lake Roxen. You are also welcome to enjoy a picnic in the park and soak up some sun. When you spend a day with the kids at the Garden Association, the only limit is your imagination.

Björkö 4H farm
Take the family out to scenic Ljungsbro for a close encounter with animals including horses, pigs, sheep, goats, ducks, chickens, rabbits, cats and a donkey. Visitors can pet, feed, cuddle, and ride animals, ride a tractor, or experience what it's like to be a farmer for a day. The Björkö 4H farm also offers children's parties.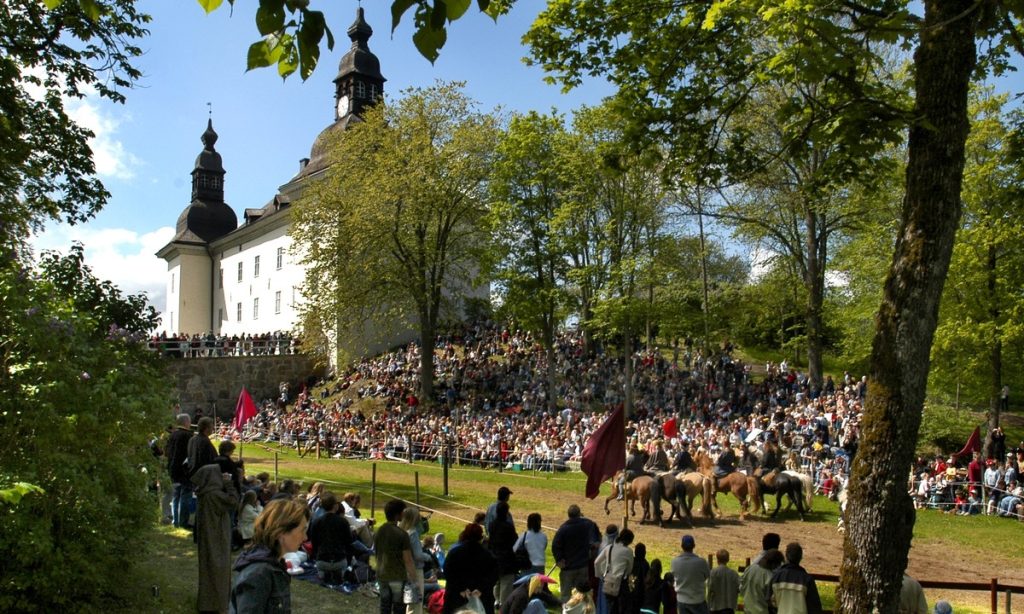 Ekenäs Castle – Jousting tournament, Christmas market and ghost walks
If you are looking for a castle destination that also has plenty of fun and activities for the kids, Ekenäs Castle is perfect. Ekenäs hosts a popular jousting tournament, a Christmas market, concerts and ghost walks.
Ekenäs Castle hosts a jousting tournament in May, which is a major attraction for visitors and families with children from all over Östergötland. The castle grounds are transformed, allowing visitors to step back into medieval times, complete with a jousting tournament and historic market. During the weekend that the event is held, a wide variety of activities are offered – a bouncy castle, knight and princess school, fencing with soft weapons and much more.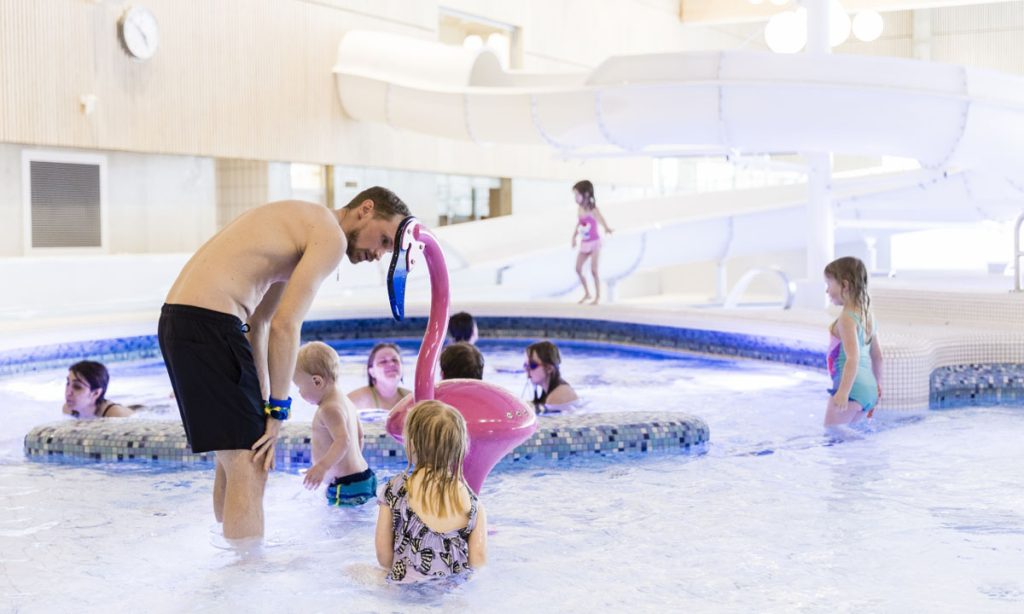 Tinnerbäcksbadet – The Most Modern Swimming Facility in the Nordic Region
Sweden's most state-of-the-art aquatic center has opened in Linköping, and despite the chilly weather, a swim is always a great idea! Tinnerbäcksbadet features a 50-meter pool and a 25-meter pool. There's a diving pool equipped with trampolines at 1, 3, and 5 meters. Additionally, there are teaching and rehabilitation pools, both with adjustable floors, along with a family area featuring a children's pool, wave pool, 3 water slides, jacuzzi, steam sauna, dry sauna, as well as a café and an outdoor sun terrace.
Tinnerbäcksbadet caters to visitors of all ages, but it's advisable to keep an eye on those in your party who may not be as experienced in swimming.
Find more activities for the family
Kunde inte hitta några poster
Försök med en annan filtrering eller sökning