Linköping City – a vibrant central district
No need to worry about tired legs, sore heels and long rides – in Linköping, everything the city has to offer is close by. In the walkable central district, trendy boutiques, exclusive shops, speciality stores and restaurant row are side by side with pleasant squares and pedestrian friendly streets.
Everyone comes to Linköping for different reasons, so it is difficult to say exactly what you will experience when you arrive, but we can help you along the way to make sure that you find what you looking for! What souvenir will you bring home from Linköping?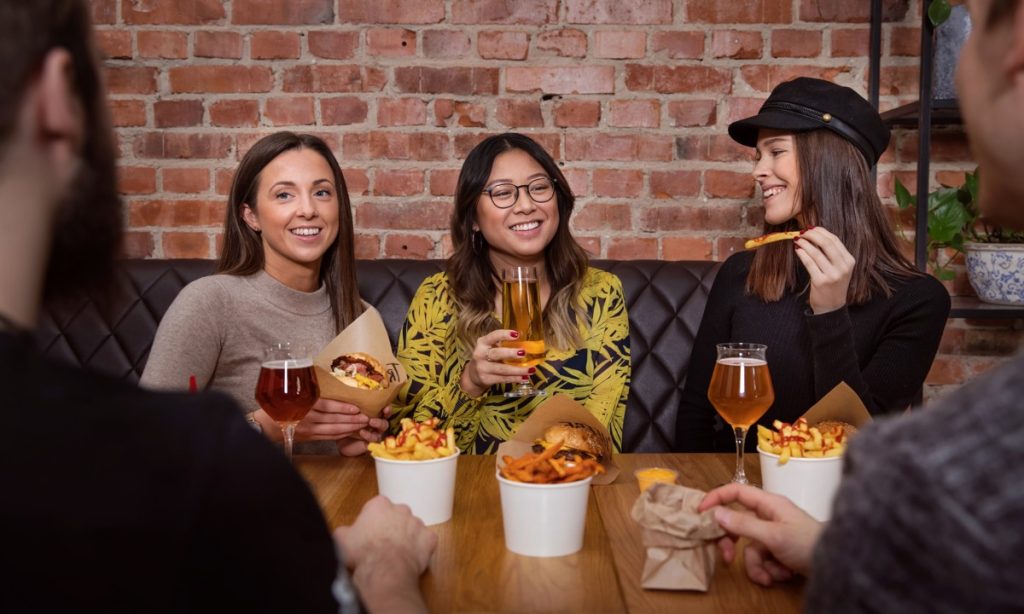 Dinner in town – Linköping knows how to enjoy a good meal
Linköping residents love to enjoy a good meal out on the town – and we have plenty of wonderful restaurants to choose from around the central district! Here you will find restaurants offering cuisine from all corners of the world – Asian, European and tapas, steakhouse or why not Swedish cuisine? If you want to be sure that you will get a table, it is important to make reservations – in Linköping, we love good food and it shows!
There are so many great restaurants that we locals like to frequent. If you fancy a great burger, Flott or Booya! might suit you. There are also a few restaurants that are always at the top of the list on TripAvisor! Restaurante Alfama on Apotekaregatan comes to mind. It is a must visit restaurant offering Portuguese cuisine. Then there is Restaurang Jord at Johannesburg Park, which was awarded a green Michelin star in 2023.
In the summer months, Stora Torget in Linköping is bursting with life with its beautiful outdoor seating that includes everything from pub menus to Asian food – perfect for people watching or kicking back on a balmy summer evening. Several cosy courtyards also open up during the summer. Innergården on Apotekargatan is a nice hangout bar or try Simons Rosteri &  Bageri's courtyard for a tasty Swedish fika in a setting that can't be beat!

Shop until you drop – Exciting shopping destinations in the city
Linköping offers a great mix of shops just waiting to be explored! If you walk up Nygatan a few meters, you will come to Lilla Torget with the large Gränden shopping centre with shops on two levels. Then stroll further along Nygatan over Trädgårdstorget into Tanneforsgatan, on to Stora Torget where you will find cosy, unique shops around Bokhållägatan, Torggatan and Storgatan. The shops are lined up like a string of pearls from west to east.
Linköping City is also a hub for FOLK (Förenade-Oberoende-Lokala-Kreativa), which stands for United-Independent-Local-Creative, which is a group of people working together to create a more vibrant city.
Linköping City Samverkan has made a list of stores in the city that are members in the association > if you are curious about exactly which stores are located in our inner city. Galleria Gränden also offers gift cards – they make the perfect gift. With the gift card, you can shop in over 180 stores in the city!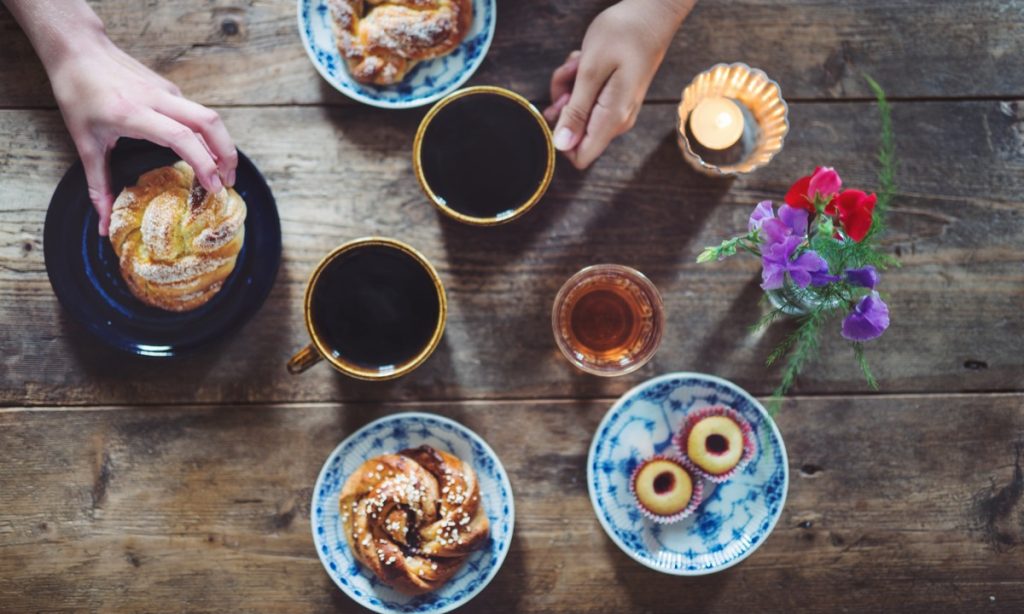 Cafémys – Chill out with a Swedish fika
Cafémys is easy to find in Linköping. The top-rated cafés in the city on Tripadvisor can be found on Platensgatan and Stora Badstugatan. Platensgatan – Ammos Café och Creperie is a cosy creperie with fantastic coffee and tasty crepes. On the same street, you will also find Bosse's ice cream shop. Ask any local where to find Bosse's ice cream shop and we will know in an instant. Bosse's is a little hole in the wall that churns out loads of homemade ice cream in every flavour you can imagine during the summer months. A must visit here in Linköping.
On Stora Badstugatan, you will find Babette's Kafferi, which is not only a cosy café, it has also been awarded the Nyponet cultural prize by Lars Winnerbäck himself. In his motivation for awarding the prize, Lasse describes it as a café where music, art and culture come together in the heart of Linköping. Babettes also occasionally holds a Literary Salon with exciting speakers. Of course, a good cup of coffee would hit the spot, too. Another must visit is Simons Rosteri & Bageri, which has been recognized by the White Guide. Good Swedish fika is certainly alive and well here in town!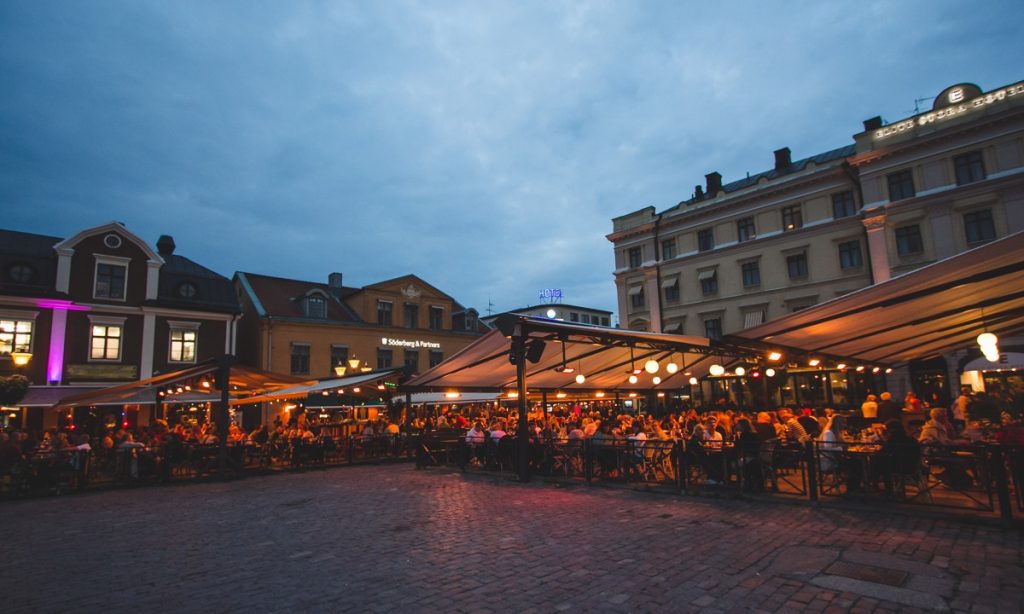 Linköping's number 1 entertainment district
In the area around Stora Torget, Ågatan and further into Platensgatan, there is a good mix of bars, clubs, restaurants and cinemas lined up like another string of pearls. Linköping is a bustling, lively city any time of day. Linköping city is truly a gathering place for community and socializing!
There is plenty of outdoor seating during the summer, when several restaurants and pubs move their service outdoors. At Stora Torget, which is also Linköping's largest outdoor dining area, Linköping residents flock to soak in the warmth of the long summer days in good company. If a night of dancing is your thing, head to the night club strip on Ågatan. Here you will find most of the clubs such as O'Learys, Brasserie Grand, Shotluckan.
Of course, there are plenty of cosy pubs, wine bars and bars all around the city centre. There is so much to choose from – the only question is, what do you feel like doing today? A cosy, quiet evening with friends? Or a lively night on the town to take in the pulse of the city? Welcome to lively Linköping!